Blueberry Breakfast Grilled Cheese in honor of April Grilled Cheese Month!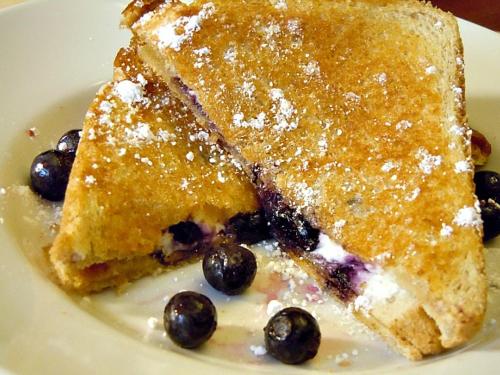 (Adapted from Onceamonthmom.com)

Ingredients:
8 slices sandwich bread
6 ounces cream cheese, softened
2 Tablespoon powdered sugar
2 Tablespoon butter
0.75 cup fresh (or frozen) blueberries, thawed

Directions:
Mix together cream cheese and powdered sugar. Heat skillet over medium heat. Butter a slice of bread on one side and place butter side down in skillet. On the inside of that slice of bread, spread the cream cheese mixture. Top with blueberries. Place a second slice of bread on top of the blueberries. Butter the outside of the slice of bread. Cook on one side for 5 minutes and then flip. Cook for another 3 minutes until bread is golden brown. Remove from heat and repeat with the rest of the bread.

Servings: 4
Homemade Strawberry White Chocolate Pop Tarts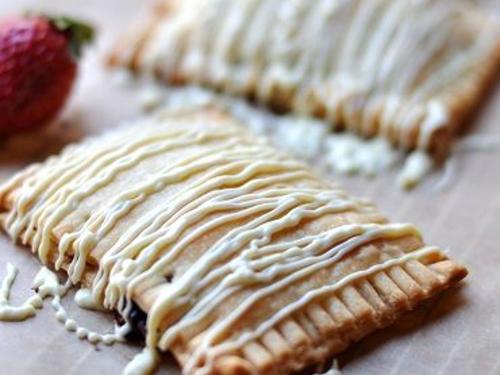 A much healthier version of a food that when sold in the grocery store in a box contains all sorts of artificial ingredients that are hard to say and that most people haven't a clue what they actually are. These are so much better than the cardboard textured sweeties sold in a cardboard box.

Makes 10 pop tarts

Dough Ingredients:

2 cups unbleached all-purpose flour
1 teaspoon granulated sugar
1/4 teaspoon salt
12 tablespoons unsalted butter, softened and cut in half-inch pieces
7 tablespoons chilled water

Filling:

Organic strawberry jam and sliced organic strawberries

Icing:
Melted white chocolate

Preparation:

Sift flour, sugar, and salt in a large bowl; add 4 tablespoons of the butter. Blend in a mixer until the dough resembles coarse cornmeal. Add the rest of the butter; mix until the biggest pieces look like large sized peas.

Slowly add in wate. Stir. Add just enough water until the dough just holds together. Toss with hands, letting it fall through fingers, until it's ropy with a just a few dry patches. Toss until dough can be rolled into a ball. Flatten it into 2 4-inch-round disks; refrigerate. After a minimum of 30-minutes, remove; and let soften enouch to be malleable but still cold. Smooth cracks at edges. On a lightly floured surface, roll each dough ball into a 10 X 12 inch rectangle. Cut each into 10 equal pieces.

Once the dough is evenly cut, place about 1 ½ teaspoons of jam on half of the sliced dough pieces and place a few thin slices of strawberry on top. Be sure to leave at least 1 ½ cm of space all around the edges.

Place the 10 empty dough pieces on top. Be careful not to squish down the preserves. Close the edges together using the tines of a fork. Trim the edges with a knife.

Place the unbaked pop tarts on a parchement lined baking sheet. Using a fork make even holes in each tart, making sure not to go through the second layer of dough. Brush with milk and freeze for 20 minutes while preheating the oven to 400ºF.

Place the tray of pop tarts on the center oven rack, and bake for 15 to 20 minutes, until browned.

While the tarts are baking, prepare the icing by placing 3 'pieces/chunks' of a white chocolate bar into a microwave safe bowl and warm for 30 seconds on 50% power. Mix and repeat until the chocolate is melted.

Transfer chocolate to to a small plastic baggy, cut a teeny tiny piece off the corner and then drizzle the chocolate over the pop tarts when they are done baking. Yummy!
Plum Upside-Down Baked French Toast
In the addition to the soon to be republished Wine Country Inns Cookbook, Camellia Inn food is featured in the latest new cookbook called "Cinnamon Mornings." This Pam Lanier publication features the best of inn cuisine. If you would like to have one of your favorite Camellia Inn dishes featured in the new Wine Country Inns cookbook send us an e-mail at Lucy@CamelliaInn.com and tell us which ones you would like us to include.

This lovely French Toast recipe is perfect for fall mornings and has a hint of the holidays to come about it. It's delicious, easy to make, filling and nutritious as it is a good source of protein, folate, vitamin A, calcium and iron.

Ingredients
* 1/4 cup milk
* 1/2 tsp. almond extract
* 1 tsp. vanilla
* 6 slices French bread (1-inch thick, 4-inch diameter) (We use some from
Costeaux's bakery)
* 2 cups chopped ripe fresh plums
* 2 Tbsp. water
* 1/3 cup packed brown sugar
* 1/2 tsp. freshly grated lemon peel (We use fresh Meyer Lemon peel)
* Dollop of fresh whipped cream and sprig of mint (optional)

Directions
HEAT oven to 375°F. BEAT eggs, milk, almond extract and vanilla in medium bowl until blended. POUR 1/2 of the egg mixture into 9-inch square baking dish. PLACE bread slices in mixture; pour remaining egg mixture over bread. LET STAND, turning occasionally, until liquid is absorbed, about 10 minutes. Meanwhile COMBINE plums and water in medium saucepan; cook, covered, over medium heat until tender. ADD sugar and lemon peel; mix. SPREAD in 8-inch square baking dish. PLACE soaked bread on top of plums. BAKE in 375°F oven until lightly browned and no visible liquid egg remains, 20 to 30 minutes. Serve with an optional dollop of fresh whipped cream.

Inn Tip: Bread may be soaked in egg mixture, covered and refrigerated, several hours or overnight. Handle gently when arranging on top of plums.
Pumpkin Scones with Cinnamon-Cider Cream Cheese Glaze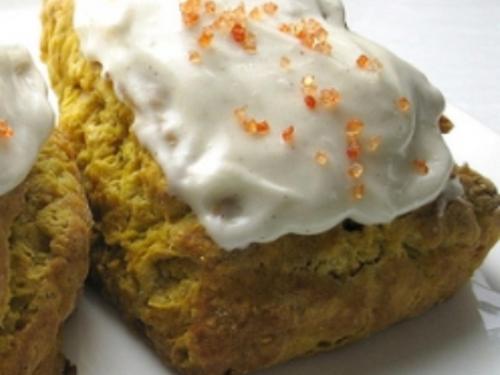 This is an absolutely lovely scone even without the glaze but the glaze elevates it to heavenly. It's a perfect combination of not too sweet and a perfect blend of the cinnamon, cider and cream cheese with none of them overpowering the others. We add the natural sprinkles from Whole Foods just because the color is so pretty on the glaze and they have no dye and no chemicals.

INGREDIENTS:
2 C all-purpose flour
1 T baking powder
1/2 tsp baking soda
¾ tsp salt
¾ tsp ground cinnamon
½ tsp. ground nutmeg
¼ tsp. ground all spice
6 ½ T frozen butter, grated with cheese grater (store in freezer till ready to use)
½ C fresh or canned pumpkin puree
7 T light brown sugar, packed
3 T heavy cream
1 large egg

Glaze:
¾ cup confectioners sugar, sifted
4 oz. cream cheese, at room temp
1 tsp ground cinnamon
A three dashes of pure apple cider

Grate the butter with the large holes of a cheese grater and put back in the freezer. Preheat oven to 425 degrees F. Line a large baking sheet with parchment paper.
In a large bowl, combine flour, baking powder, baking soda, salt and all the spices, and set aside. In a medium bowl combine the pumpkin, sugar, cream and egg and beat well until nice and combined. Add the frozen butter to the flour mixture. Mix with fork or pastry cutter until it forms bread-like crumbs. Fold the wet ingredients, in two batches into the butter/flour mixture using a wooden spoon. Don't over beat it.
Dust work space and hands with generous amounts of flour, shape dough in a large circular ball and place dough down and flatten. It should be about 8 to 10 inches round. Dough will crack when you press down, just pinch and repair as you go along. Dust a large, sharp knife with flour and cut the dough into six triangles. Slide the knife under each triangle to help you lift and transfer it to the prepared baking sheet. Bake for 14 to 16 minutes, or until the scones begin to turn light brown in color. While scones are baking assemble the glaze by adding in the soft cream cheese to a medium size bowl, add in the sifted confectioners sugar, cinnamon, and dashes of the apple cider. Add the cider in small doses while mixing as much or as little as you want depending on how thick you like the glaze. Beat until well mixed. Let scones cool a bit on a rack before glazing.
Camellia Inn Pear Pie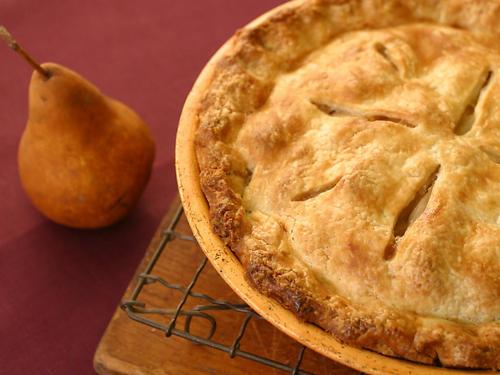 Guests are raving about our scrumptious pear pie that we sdapted from recipe by Rosalie Hope.

2 ready to bake pie shells – leave out overnight
6 pears peeled & sliced lengthwise
2/3 C melted butter
1 1/3 C granulated sugar
2/3 C flour
6 eggs
1 ½ tsp almond flavoring

Partially bake pie shells in 10" tart pans at 425 degrees

Arrange pears in partially baked pie shells in a circular fan pattern to cover the bottom of pie shells. Combine the rest of the ingredients. Pour this mixture over the pears. Bake at 350 degrees for approximately 35 minutes. Slice into small wedges. Sprinkle with powder sugar and arrange flowers in center of tart. Serve hot or cold. Serves 16-20.
Pumpkin Cranberry Pancakes with Cinnamon Syrup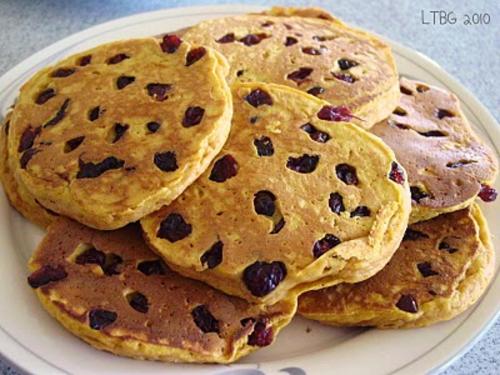 Adapted from Bon Appetit, December 1996

Ingredients

2 cups all purpose flour6 tablespoons (packed) brown sugar1 1/2 teaspoons baking powder1/2 teaspoon baking soda1/2 teaspoon ground cloves1/2 teaspoon salt1 2/3 cups buttermilk3/4 cup canned solid pack pumpkin3 large eggs2 tablespoons canola oil1 cup fresh cranberriesAlso, 4 tablespoons (about) butter & pure maple syrup

Directions

Preheat oven to 250°F. Mix first 6 ingredients in large bowl to blend. Whisk buttermilk, pumpkin, eggs and oil in medium bowl until well blended. Add to dry ingredients and whisk until smooth.

Melt 1 tablespoon butter in large nonstick skillet over medium heat. Working in batches, drop batter by 1/4 cupfuls into skillet. Cook pancakes until bubbles form on top and bottoms are golden brown, about 2 1/2 minutes. Turn pancakes over. Cook until bottoms are golden brown, about 2 minutes. Transfer to baking sheet; place in oven to keep warm up to 20 minutes. Repeat with remaining batter, adding more butter to skillet as necessary for each batch.

Serve pancakes hot with Cinnamon Syrup

Cinnamon Syrup (serves 3-4)

1/2 cup pancake syrup 1 tsp. ground cinnamon 1 tbsp. butter

In a small bowl or measuring cup, heat syrup in the microwave. Add cinnamon, stir til fully combined. Add butter and allow to melt. Stir. Serve. Syrup will thicken as it cools.