SPICED CHOCOLAT CHAUD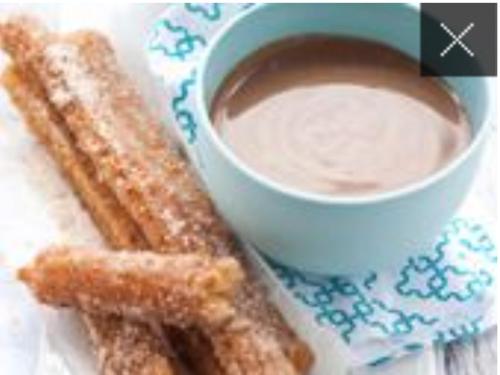 This spiced chocolat chaud recipe is the one to make when you need pure comfort in a cup. It's a perfect way to welcome the holidays or celebrate a cozy night spent by the hearth. Spiced hot chocolate takes only a few minutes to pull together and you can customize the aromatic sweet by fiddling with the spice combinations.
Ingredients:

6 oz. semisweet or milk chocolate, chopped
¼ cup plus 3 tablespoons hot water, divided
1 teaspoon orange zest (optional)
1/2 teaspoon ground cinnamon
1/8 teaspoon ground allspice
2 cups hot milk
1 cup hot half-and-half, or light cream
Sugar, to taste
Whipped cream
Chocolate curls
2 teaspoons or 4 small curls orange zest for garnish
Preparation:

How to make spiced hot chocolate:
Using a double boiler or a heat-safe glass bowl over simmering water, melt the chopped chocolate into ¼ cup of the water. Stir in the 3 tablespoons hot water, orange zest, cinnamon, allspice, hot milk, and light cream until the chocolate mixture is smooth.Pour the spiced hot chocolate into cups and add sugar as desired. Garnish each cup with a spoonful of whipped cream, a few chocolate curls, and a sprinkle of orange zest.
This spiced chocolat chaud recipe makes 4 servings.
HALLOWEEN CHOCOLATE MICE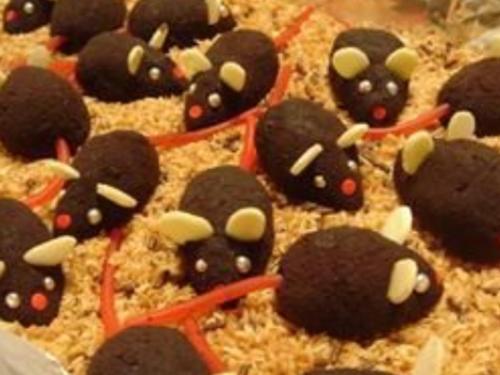 Whimsical and fun, these darling chocolate mice rolled in confectioners' sugar or chocolate cookie crumbs are very realistic.

INGREDIENTS:
4 (1 ounce) squares semisweet
chocolate
1/3 cup sour cream
1 cup chocolate cookie crumbs
1/3 cup chocolate cookie crumbs
1/3 cup confectioners' sugar
24 silver dragees decorating candy
1/4 cup sliced almonds
12 (2 inch) pieces long red vine
licorice

DIRECTIONS:
Melt the chocolate, and combine with sour cream. Stir in 1 cup chocolate cookie crumbs. Cover and refrigerate until firm. Roll by level tablespoonfuls into balls. Mold to a slight point at one end (the nose). Roll dough in confectioners sugar (for white mice), and in chocolate cookie crumbs (for dark mice). On each mouse, place dragees in appropriate spot for eyes, almond slices for ears, and a licorice string for the tail. Refrigerate for at least two hours, until firm.
French Chocolate Macarons with Chocolate Ganache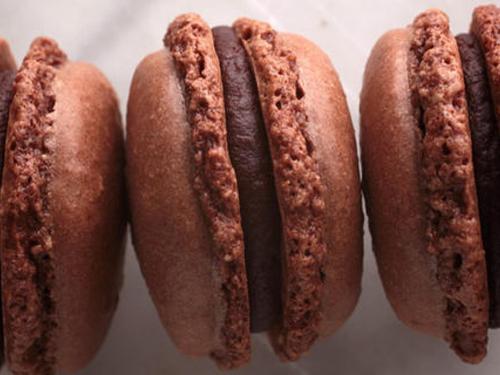 In celebration of National Chocolate Macaron Day on June 3.
Makes: About 25 cookies
Macarons are not difficult to make, but they can be so finicky. Sometimes they spread into odd shapes or form dark stains on top. Even if yours are not beautiful, they'll still taste delicious. Some tips: Let the raw macaron rounds sit at room temperature for at least 30 minutes, don't overmix the meringue or batter, and, when possible, use older egg whites.
Special equipment:
If you don't have a pastry bag, you can either spoon round dollops of batter onto the baking sheet or make a pastry bag by snipping off one corner of a large resealable plastic freezer bag.
What to buy:
You will need almond meal or almond flour, which are the same ingredient—raw blanched whole almonds that have been ground into a fine powder. If you cannot find almond flour/meal, you can grind blanched almonds until very fine.
INGREDIENTS
For the macarons:
2 cups powdered sugar
1 cup almond flour or almond meal
3 tablespoons natural unsweetened cocoa powder
1/4 teaspoon fine salt
3 large egg whites, at room temperature
Pinch cream of tartar
3 tablespoons granulated sugar
For the ganache filling:
4 ounces bittersweet chocolate, finely chopped
1/2 cup heavy cream
2 tablespoons unsalted butter (1/4 stick), at room temperature and cut into cubes
INSTRUCTIONS
For the macarons:
Line two baking sheets with parchment paper; set aside. Fit a large pastry bag with a 1/2-inch plain tip; set aside.
Place the powdered sugar, almond flour, cocoa powder, and salt in a food processor fitted with a blade attachment and pulse several times to aerate. Process until fine and combined, about 30 seconds. Sift through a flour sifter into a large bowl; set aside.
Make a meringue by placing the egg whites in the clean bowl of a stand mixer fitted with a whisk attachment. Beat on medium speed until opaque and foamy, about 30 seconds. Add the cream of tartar, increase the speed to medium high, and beat until the egg whites are white in color and hold the line of the whisk, about 1 minute. Continue to beat, slowly adding the granulated sugar, until the sugar is combined, the peaks are stiff, and the whites are shiny, about 1 minute more. (Do not overwhip.) Transfer the meringue to a large bowl.
Using a rubber spatula, gently fold the dry mixture into the egg whites in four batches until the dry ingredients are just combined. (The meringue will deflate.) With the final addition, stop folding when there are no traces of egg whites, the mixture runs like slow-moving lava, and it looks like cake batter. (Do not overmix.)
Transfer the batter to the pastry bag. Pipe out 1-1/4-inch rounds about 1 inch apart onto the baking sheets, about 25 per sheet. Pick up the baking sheets and bang them against the work surface to help create the macaron base, or foot. Let the rounds sit at room temperature for 30 minutes to dry the tops and ensure even cooking.
Heat the oven to 350°F and arrange a rack in the middle. Bake the macarons one sheet at a time for 7 minutes. Rotate the sheet and cook for 7 minutes more. Transfer the sheet to a rack to cool completely.
For the ganache filling:
Place the chopped chocolate in a large bowl.
Warm the cream in a small saucepan over medium heat until it just starts to boil. Stir it into the chocolate without creating bubbles. Let sit for 1 minute. Add the butter and stir until smooth. Chill in the refrigerator until thickened but still spreadable, about 30 minutes.
To assemble:
Pair macarons of similar size. Remove the ganache from the refrigerator. If you choose to pipe the ganache, transfer it to a resealable plastic bag and snip about a 1/2 inch off a bottom corner. Squeeze or scoop the ganache to about the size of a cherry (about 1 teaspoon) onto the center of a macaron half. Top with another half and press gently so that it looks like a mini hamburger. The filling should not ooze out the edges. Refrigerate, covered, at least 24 hours before serving.
Chocolate-Cherry Stout Cake with Dark-Chocolate Glaze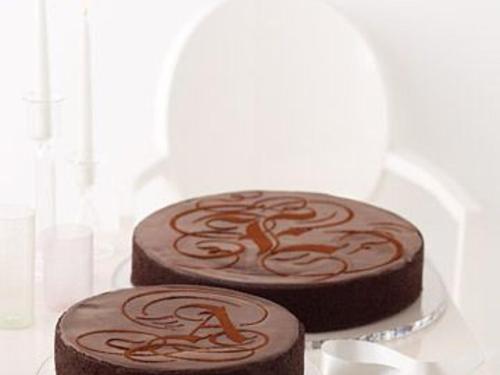 The batter produces an extremely moist cake that can be stored for a few days without getting dry. Glaze the cake the day before you serve it so that the coating will be completely hard before you apply the stencil and cocoa powder. Whipped cream and cherry compote or preserves are delicious on the side. (Adapted from Martha Stewart Living)
Yield Makes one 14-inch or two 10-inch cakes

Ingredients

FOR THE CAKE
Unsalted butter, for pans
4 cups all-purpose flour
1 tablespoon baking soda
2 teaspoons coarse salt
2 bottles (12 ounces each) dark stout, such as Guinness
3/4 cup unsulfured molasses
12 ounces dried cherries (about 2 1/2 cups)
1 3/4 cups unsweetened Dutch-process cocoa powder, sifted, plus more for stenciling
4 large eggs, room temperature
2 cups granulated sugar
1 cup packed dark-brown sugar
2 cups vegetable oil
1 tablespoon pure vanilla extract
1 1/2 cups sour cream

FOR THE GLAZE
1/4 cup plus 2 tablespoons granulated sugar
1/2 cup plus 2 tablespoons water, plus more as needed
11 ounces bittersweet chocolate (preferably at least 61 percent cacao), finely chopped
Directions

Preheat oven to 350 degrees. Butter a 14-by-3-inch round cake pan or two 10-by-3-inch round cake pans. Line with parchment cut to fit, and butter parchment. Whisk together flour, baking soda, and salt.
Simmer stout, molasses, and cherries in a saucepan, stirring occasionally, until cherries are plump, about 5 minutes. Strain, reserving liquid. Let cherries cool completely. Return liquid to pan, and bring to a boil. Remove from heat and whisk in 11/2 cups cocoa until smooth. Transfer to a bowl, and let cool slightly.
Beat eggs and sugars with a mixer on medium-high speed until combined, 2 to 3 minutes. Reduce speed to low. Gradually beat in stout mixture. Raise speed to medium, and beat until combined. Reduce speed to low again, and beat in oil and vanilla. Add flour mixture in three additions, alternating with the sour cream, and beat until combined.
Toss cherries with remaining 1/4 cup cocoa, and gently fold into batter. Pour batter into prepared pan. Gently tap pan on counter to eliminate some of the air bubbles (batter will still look bubbly).
Bake cake until a toothpick inserted into center comes out clean, 60 to 65 minutes for 14-inch pan and 50 to 55 minutes for 10-inch pans. Let cool in pan on a wire rack for 20 minutes. Run a knife around edges of pan to loosen, and invert cake onto rack to cool completely. Carefully remove parchment, and turn cake right side up. Using a serrated knife, trim rounded top of cake to create a flat surface. Transfer cake, cut side down, to a wire rack set over a baking sheet.
Make the glaze: Heat sugar, cornstarch, and the water in a large saucepan over medium heat, whisking until sugar has dissolved. Add chocolate, and bring mixture to a simmer, whisking constantly and scraping down sides of pan as needed. Cook until smooth and thick, about 8 minutes. Remove from heat. Whisk in more water, a teaspoon at a time, until glaze is thick but pourable. Using a ladle, spoon glaze onto center of cake (2 cups glaze for 14-inch cake and 1 cup glaze for each 10-inch cake). Spread to the edge with an offset spatula, but do not allow glaze to drip down sides. Let stand, uncovered, at room temperature overnight to allow glaze to harden. Place a stencil on top of cake, and sift cocoa over top. Carefully remove stencil.
Michael Symon's Chocolate Chocolate Chip Cookies with Sea Salt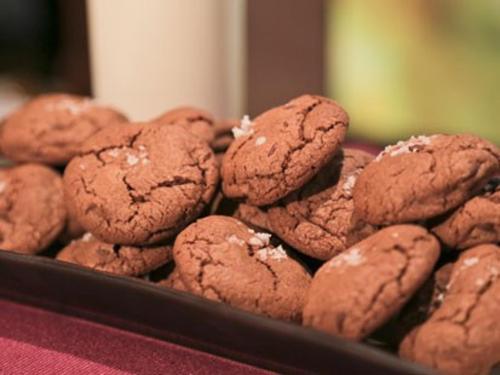 Cook Time: 30-60 min

Ingredients
1 stick unsalted butter, room temperature 
1/2 cup sugar 
1/2 cup dark brown sugar 
1 egg 
2 tsp pure vanilla extract 
1 1/2 cup all-purpose flour 
1/4 cup unsweetened cocoa powder 
1/2 teaspoon baking powder 
1/2 teaspoon baking soda 
1/2 teaspoon salt 
1 cup dark chocolate chips 
2 tablespoon flaked sea salt, or more as needed
Directions
Preheat oven to 350 degrees. Line baking sheet with parchment. In a medium bowl, gently whisk together flour, cocoa powder, baking soda, baking powder & salt. In a large bowl, whisk together butter, sugar and dark brown 
sugar until light and fluffy. Beat in the egg and vanilla extract until incorporate. Gradually add the flour mixture into the butter mixture. Make sure not to over mix or cookies will be tough. On the last addition of the flour mixture add the chocolate chips and fold to incorporate. Scoop 2 heaping tablespoons of batter and drop onto baking sheet.
Hershey's Kisses Chocolate Chip Cookies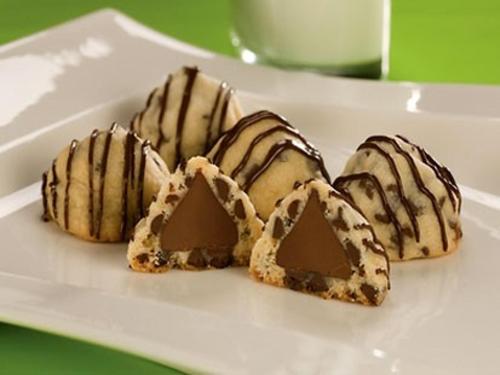 A Sweet Surprise Inside a Cookie

Cook Time: 1-30 min

Ingredients
48 HERSHEY'S KISSES Brand Milk Chocolates or HERSHEY'S KISSES 
Brand Milk Chocolates with Almonds 
1 cup (2 sticks) butter or margarine, softened 
1/3 cup granulated sugar 
1/3 cup packed light brown sugar 
1 teaspoon vanilla extract 
2 cups all-purpose flour 
1 cup HERSHEY'S Mini Chips Semi-Sweet Chocolate 
CHOCOLATE DRIZZLE (recipe follows)
Directions
Heat oven to 375°F. Remove wrappers from chocolates. Beat butter, granulated sugar, brown sugar and vanilla in large bowl until well blended. Add flour to butter mixture; blend until smooth. Stir in small chocolate chips. Mold scant tablespoon dough around each chocolate piece, covering completely. Shape into balls; place on ungreased cookie sheet. Bake 10 to 12 minutes or until set. Cool slightly; remove from cookie sheet to wire rack. Cool completely. Prepare CHOCOLATE DRIZZLE; drizzle over each cookie. About 4 dozen cookies.
CHOCOLATE DRIZZLE: Place 1/4 cup HERSHEY'S Mini Chips Semi-Sweet Chocolate and 1 teaspoon shortening in small microwave-safe bowl. Microwave at MEDIUM (50%) 30 seconds; stir. If necessary, 
microwave at MEDIUM an additional 10 seconds at a time, stirring after each heating, until chocolate is melted and mixture is smooth when stirred.
Rocco's Low-Cal Chocolate Chip Cookies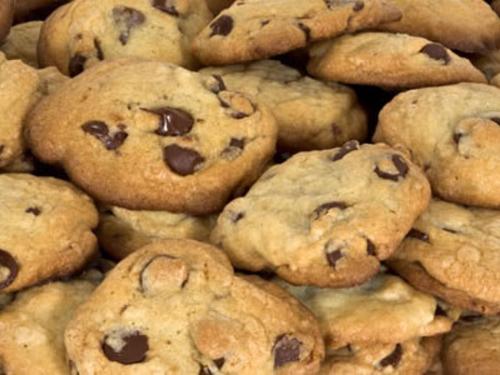 Cook Time: 30-60 min

With three kinds of chocolate for flavor – cocoa powder, cacao nibs, and chocolate chips – you won't miss the fat and sugar in the standard version of this most beloved cookie.
Ingredients
Nonstick cooking spray 
1/2 teaspoon vanilla extract 
1/3 cup unsweetened cocoa powder, sifted 
1 cup canned white cannellini beans, rinsed and drained 
2 tablespoons light agave syrup 
3 large egg whites 
1 1/2 cups granulated Splenda 
1/4 cup dark chocolate-covered cacao nibs 
1/4 cup mini chocolate chips
Directions
Preheat the oven to 375°F. Line 2 baking sheets with parchment paper and spray lightly with cooking spray. Set aside. In the bowl of a food processor, combine vanilla, cocoa, cannellini beans, and the agave syrup, and blend the mixture until smooth, about 3 minutes, scraping down the side of the bowl halfway through blending. In the bowl of a mixer fitted with a whip attachment, beat the egg whites until they form soft peaks. Gradually beat in the Splenda. Continue to beat the whites until they are creamy and nearly stiff. Add one-third of the egg-white mixture to the cocoa-bean mixture in the food processor. Blend to combine, about 30 seconds. In 2 batches, fold the lightened cocoa mixture into the egg whites until they are almost fully combined. Add cacao nibs to the batter. Fold batter until cacao beans are evenly dispersed and cocoa mixture is completely incorporated. Drop mounded spoonfuls of batter onto the prepared sheets. Spread butter out to form cookies about 2 1/2 inches in diameter. Sprinkle the chocolate chips on top of the cookies. Bake for 20 minutes, rotating the pans one turn halfway through baking. Using a metal spatula, transfer cookies to wire racks to cool.
Makes 20 cookies.
1.4g Fat, 45 Calories
Protein: 2g | Carbohydrates: 9g | Cholesterol: 0mg
Fiber: 2g | Sodium: 32mg
Emeril's Gluten-Free Peanut Butter-Chocolate Chip Cookies
Cook Time: 30-60 min

Ingredients
1 cup creamy peanut butter 
1/2 cup granulated sugar 
1/2 cup packed light brown sugar 
1/2 cup semisweet chocolate chips 
1 large egg, beaten 
1 teaspoon vanilla extract
Directions
Position two oven racks in the center of the oven and preheat the oven to 350°F. Combine all the ingredients in a bowl, and stir with a wooden spoon until smooth. Divide the dough into 24 portions, about 1 heaping tablespoon each. Roll each portion between your hands to form a smooth ball. Place the balls of dough on 
ungreased cookie sheets, spacing them 1 inch apart. You should get about 12 cookies per sheet. Using a fork, 
press on the dough in two directions to form a crosshatch pattern. Bake the cookies, rotating the sheets between oven racks and turning them back to front midway, until the cookies are puffed and lightly golden, about 10 
minutes. Remove the baking sheets from the oven and let the cookies cool on the sheets. Then remove them with a metal spatula.
About 24 cookies
Chocolate Covered Cashews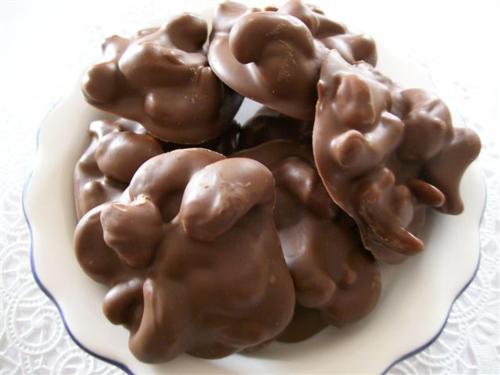 In Honor of Chocolate Covered Cashew Day! April 21

1 Cup of chopped raw cashews
2 Cups of white chocolate chips or chocolate chips
This Recipe makes 36 cashew clusters and takes 19 minutes to make with 15 minutes of preparation time.
Melt the chocolate chips in either a double boiler or microwave
Add the nuts to the chocolate
Stir until the mixture is combined well
Drop this mixture by rounded teaspoons into 36 paper or foil candy cups
Chill for at least 30 minutes before serving

Chocolate Covered Pretzel Caramel Cheesecake
In honor of National Pretzel Day - April 26. While we don't have a chocolate recipe for everything, this one combines some of our favorite tastes all together. Think salted carmels, chocolate, cheesecake and pretzels and you will ge some idea how delicious this cake is!

Crust

2 cups pretzels crushed fine
1/2 cup brown sugar
2/3 cup butter melted

Mix together thoroughly and place in the bottom of springform pan.

Chocolate layer

2 cups dark chocolate chips

Melt over double boiler or in the microwave (heat 30 seconds, stir and repeat until smooth). Pour over crust. Chill for 15 minutes.

Cheesecake - Preheat oven to 350'

3 package cream cheese room temp
1 1/4 cups sugar
3 eggs
1 cup sour cream
1 tsp vanilla
1 pinch salt

Stir cream cheese until smooth. Add eggs and stir until combined. Add sour cream, vanilla and salt and stir until combined. Don't over stir as you don't want air bubbles to form. (It will make your cheesecake crack.) Pour over chocolate covered crust.

Place in water bath. Place carefully in oven for 50 minutes. Remove from oven and let it rest IN THE WATER for 20 minutes before removing. Let cool for another 30 minutes.

Pour 1 cup caramel topping (or you can make your own) and cool thoroughly.
Oreo Chocolate Chip Mousse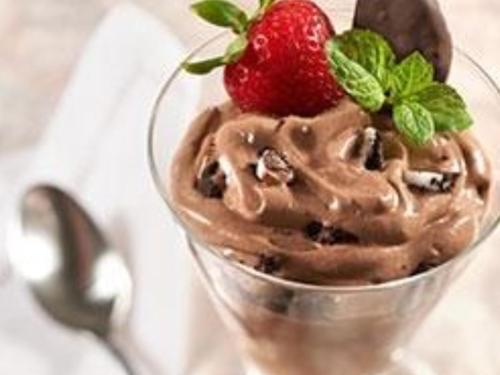 In honor of Chocolate Mousse Day on April 3 here is a receipe from Oreo cookies. Instant pudding mix makes short work of this minty chocolate mousse. A garnish of fresh berries and minty cookie halves takes the dish to new heights

INGREDIENTS:
1 (3.9 ounce) package chocolate instant
pudding mix
2 cups cold milk
14 Mint OREO Fudge Cremes, divided
1 cup thawed frozen whipped topping
4 fresh strawberries, cut in half
8 fresh mint leaves (optional)

DIRECTIONS:
1. Beat pudding mix and milk in medium bowl with whisk 2 minutes.
2. Chop 10 cookies coarsely; stir into pudding with whipped topping until blended. Spoon into 8 dessert dishes.
3. Refrigerate 1 hour. Cut remaining cookies in half. Top desserts with cookie halves and fruit. Garnish with mint, if desired.
Chocolate-Covered Peanut Brittle with Habanero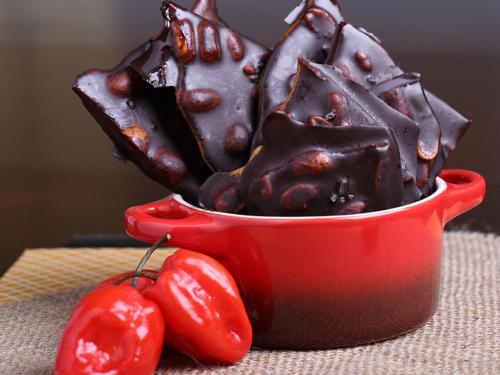 in Celebration of National Chocolate Covered Nuts Day February 25

This concoction has a buttery note, which is perfectly balanced by the crisp and subtly spice of the habanero powder to create a unique melt-in-your-mouth peanut brittle.

INGREDIENTS
1 cup sugar
1/2 tsp salt
1/3 cup corn syrup
1 TB soy lecithin (optional)
1/4 cup coconut cream (skim the heavy stuff off the top of the can)
3/4 cup of roasted and salted whole peanuts
1/2 teaspoon of habanero powder
1 tsp baking soda
2 TB Earth Balance
1/4 cup raw virgin coconut oil, melted
1/2 cup unsweetened chocolate powder (I used Ghirardelli brand)
2 TB raw agave
extra large-crystal salt

METHOD
Line a baking sheet with a silpat. Set aside. Place the first four ingredients into small saucepan over medium heat. Clip a thermometer to the side of it and set it to 300 degrees. (I used this.) Constantly stir the mixture until well combined with a rubber spatula and it starts to slightly bubble. Add in the peanuts and stir to combine.

Making sure the end of the thermometer is fully submerged but not touching the bottom of the saucepan, stir continuously until the temperature reaches 300 degrees. Remove the saucepan from the heat, then stir in the habanero powder until combined. Now, add in the baking soda and stir. It should be very bubbly and rise if you stop stirring it for a few seconds. Now add in the vegan butter and stir again. It should be very fluffy and almost marshmallow-like in texture.

Pour the contents onto the silpat-lined baking sheet using the rubber spatula. Lift and tilt the baking sheet from side to side so the mixture sets evenly. Let it cool for about 30 minutes.

Melt the coconut oil in the microwave for about 15 seconds. Whisk it together with the cocoa powder and raw agave in a medium-sized shallow square vessel.

Break the brittle into pieces and dredge then in the chocolate, returning them to the silpat to slightly harden. Sprinkle immediately with a little large crystal salt. Place into the freezer for about 10 minutes to set, then store in an airtight container in the refrigerator. Chill for several hours.
Cream-Filled Chocolate Cupcakes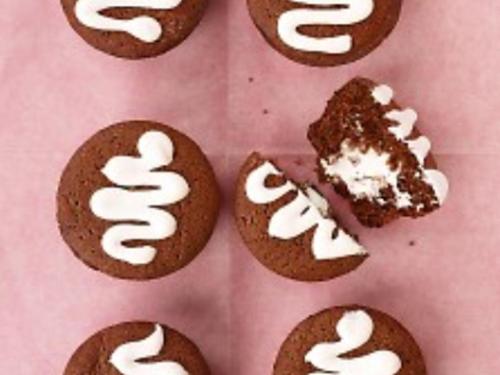 In celebration of National Cream Filled Chocolate Day February 14. Adapted from Martha Stewart Everyday Food

These nostalgic desserts will bring back fond memories of sweets like Mom used to make.

Makes 12 Cupcakes

INGREDIENTS

For the Filling

1 cup (2 sticks) unsalted butter, room temperature, plus more for muffin tins

3/4 cup unsweetened cocoa powder, plus more for muffin tins

2 cups all-purpose flour, (spooned and leveled)

2 teaspoons baking powder

1/2 teaspoon baking soda

1/2 teaspoon salt

2 cups sugar

3 large eggs, room temperature

1 cup sour cream, room temperature

1 1/2 cups marshmallow creme (7.5-ounce jar)

1/2 cup (1 stick) unsalted butter, room temperature

Directions

Preheat oven to 350. Butter two 6-cup (each with a 1-cup capacity) jumbo muffin pans; dust with cocoa powder to coat, tapping out excess. In a medium bowl, whisk together cocoa, flour, baking powder, soda, and salt.Using an electric mixer, beat butter and sugar until light. Add eggs one at a time, beating well after each addition. On low speed, add half the flour mixture, followed by sour cream, ending with remaining flour mixture; mix just until incorporated (do not overmix).Divide batter among prepared muffin cups. Bake until a toothpick inserted in center of a cupcake comes out clean, 25 to 30 minutes, rotating pans halfway through baking. Cool in pans, 5 minutes; remove cupcakes and cool, right side up, on a wire rack.Meanwhile, prepare filling: In a medium bowl, whisk marshmallow creme and butter until smooth. Chill until slightly firm, 15 to 30 minutes. Transfer mixture to a heavy-duty resealable plastic bag, and seal; cut off one corner of the bag to make a 1/8-inch opening.Using a small melon baller, scoop out center of each cupcake from the bottom, and reserve (you will use this to plug cupcake after filling). Hollow out each cupcake a bit more, discarding crumbs. Insert tip of plastic bag into each cavity, and squeeze to fill; replace plugs. Using remaining filling in plastic bag, decorate top of cupcakes.
Peppermint Patty Cookies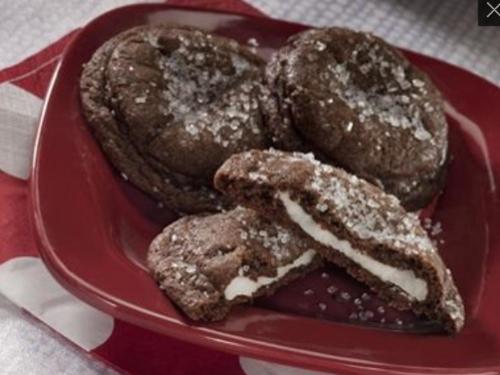 In celebration of National Peppermint Patty Day Feburary 11

Receipe Courtesy of Hersheys

Ingredients

2/3 cup butter or margarine , softened

1 cup sugar

1 egg

1 tablespoon milk

1/2 teaspoon vanilla extract

1-1/2 cups all-purpose flour

1/3 cup HERSHEY'S Cocoa

1/2 teaspoon baking soda

1/4 teaspoon salt

24 to 26 small (1-1/2 inch) YORK Peppermint Patties

White decorator's sugar

DIRECTIONS

Beat butter and sugar in large mixing bowl; add egg, milk and vanilla, blending thoroughly. Stir together flour, cocoa, baking soda and salt. Add to butter mixture, blending well. Refrigerate dough about 1 hour or until firm enough to handle. (Dough will be a little soft. Heat oven to 350°F. Lightly grease cookie sheet or line with parchment paper. Remove wrappers from peppermint patties. Roll dough into 1-1/4 inch balls. For each cookie flatten ball slightly; press peppermint pattie into dough. Mold dough around pattie so that it is completely covered. Place on prepared cookie sheet. Using knife edge press star design into surface of each cookie; sprinkle with decorator's sugar. Bake 12 to 14 minutes or until cookie is set; sprinkle with additional sugar, if desired. Cool slightly; remove from cookie sheet to wire rack. Cool completely. About 2 dozen cookies.
Cream Cheese Swirl Brownies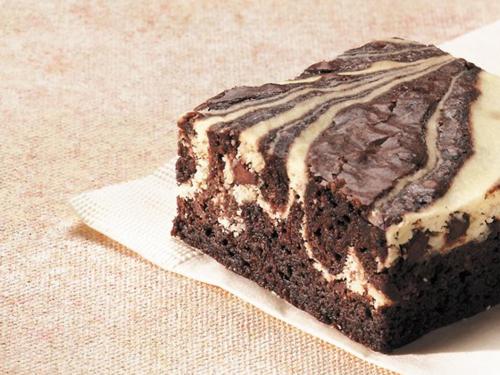 In celebration of Cream Cheese Brownie Day Febuary 10

Makes 16 squares

10 tablespoons unsalted butter, cut into pieces, plus more for pan

1 cup plus 2 tablespoons all-purpose flour

1/4 cup unsweetened cocoa powder

1/2 teaspoon baking powder

1/2 teaspoon salt

8 ounces semisweet or bittersweet chocolate, chopped

4 ounces cream cheese, room-temperature

1 1/2 cups sugar

4 large eggs

DIRECTIONS

Preheat oven to 350 degrees. Brush a 9-inch square baking pan with butter. Line bottom and two sides with a strip of parchment paper, leaving a 2-inch overhang on the two sides. Butter paper, and set pan aside. In a small bowl, whisk 1 cup flour, cocoa, baking powder, and salt; set aside.

Place 8 tablespoons (1 stick) butter and chocolate in a large heat-proof bowl set over (not in) a saucepan of gently simmering water. Heat, stirring occasionally, until smooth, 2 to 3 minutes; remove bowl from pan. Add 1 1/4 cups sugar; mix to combine. Add 3 eggs, and mix to combine. Add flour and cocoa mixture; mix just until moistened (do not overmix).

Prepare cream-cheese mixture: Whisk cream cheese with 2 tablespoons room-temperature butter. Whisk in 1/4 cup sugar, 1 egg, and 2 tablespoons all-purpose flour. Alternately spoon chocolate batter and cream-cheese mixture into pan; with the tip of a paring knife, swirl to marble.

Bake until a toothpick inserted in center comes out with a few moist crumbs attached, 50 to 60 minutes. Cool in pan for 30 minutes. Using paper overhang, lift brownies out of pan; transfer to a rack to cool completely (still on paper). On a cutting board, using a dampened serrated knife, cut into 16 squares.

How-To

Softening cream cheese is easy. Just microwave unwrapped cream cheese in a microwavable bowl on High for 10 to 15 seconds.

Nutrition Information:

1 Serving (1 Brownie) Calories 220 (Calories from Fat 80), Total Fat 9g (Saturated Fat 3g,Trans Fat 0g), Cholesterol 35mg;Sodium 135mg;Total Carbohydrate 32g(Dietary Fiber 1g,Sugars 24g), Protein 2g; *Percent Daily Values are based on a 2,000 calorie diet.
Chocolate Fondue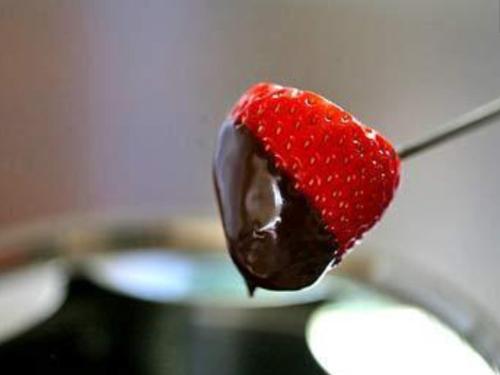 in Celebration of National Chocolate Fondue Day February 5

Chocolate fondue is easy and fun to make, a party favorite. Dip fresh fruit and other dippables into the hot, melted creamy chocolate mixture.

INGREDIENTS
* 12 ounces of dark chocolate (chips or chopped)
* 8 ounces of heavy cream
* A pinch of salt
* Dippables: strawberries, banana pieces, dried appricots, candied ginger, apple pieces

DIRECTIONS
Warm the cream over moderate heat until tiny bubbles show and begins to lightly and slowly boil. Add the chocolate and whisk until smooth and full incorporated. Immediately transfer to a fondue pot heated at low or with a low flame, or serve straight from the pot. Arrange the dippables on a platter or plates around the chocolate pot. Use a fondue fork, bamboo skewer, seafood fork, or salad fork to dip the fruit pieces and other dippables into the hot melted cream chocolate mixture. Eat immediately. If the fondue begins to feel a little stiff, add a tablespoon of heavy cream and stir. It will help it go a little longer. Eventually, it will cook down though and you may need to start a new pot. Variations:
* Add a tablespoon or two of Bailey's Irish Cream to the chocolate. Other liquors such as Grand Marnier, Amaretto, or Kirsch are equally delicious.
* Add a 1/2 teaspoon of cinnamon and ancho chili pepper for a nice Mexican Chocolate with a little heat.
* The contents of a vanilla pod or some vanilla extract are always an elegant addition.
* Orange zest makes a slightly fruity chocolate.
* A few tablespoons of Torani flavoring syrups can add a new taste.
* White chocolate and white chocolate spiked with a little liquor makes it heavenly.
PRINCE WILLIAMS CHOCOLATE BISCUIT CAKE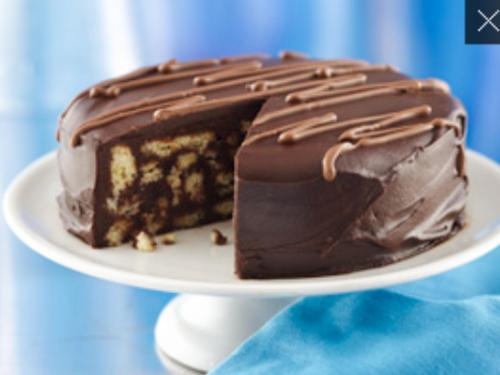 From Darren McGrady's "Eating Royally"

Prep: 25 minutes ~ Chill: 3 hours ! Servings: 8

Most of you know how we love chocolate at the Camellia Inn! For June, the month of weddings, and because in July, Prince William and Duchess Kate are coming to California, we are indulging our chocolate tastes, our hopes that the royal couple will include Healdsburg on their California itinerary and that you will join us for your honeymoon or anniversary with this special groom's cake from the royal wedding.

INGREDIENTS

8 ounces tea biscuits or cookies

1/2 stick (4 tablespoons) unsalted butter, softened

1/2 cup granulated sugar

12 ounces dark chocolate

1 egg, beaten

1 ounce white chocolate

1. Lightly grease a small (6-inch) cake ring or springform pan with butter. Place on a parchment-lined tray. Break each of the biscuits into almond-size pieces; set aside. Cream the butter and sugar in a bowl until a light lemon color.

2. Melt 4 ounces of the dark chocolate in a double boiler. Off the heat, add the butter and sugar mixture, stirring constantly. Add the egg; continue stirring. Fold in the biscuit pieces
until they are all coated with the chocolate mixture.

3. Spoon the mixture into the prepared cake ring. Try to fill all the gaps on the bottom of
the ring, because this will be the top when it is unmolded. Refrigerate, at least 3 hours.

4. Remove the cake from the refrigerator; let it stand while you melt the remaining 8 ounces of dark chocolate in a double boiler. Slide the ring off the cake; turn the cake upside-down onto a cooling rack. Pour the melted chocolate over the cake, smoothing the top and sides using a butter knife or offset spatula. Allow the icing to set at room temperature. Carefully run a knife around the bottom of the cake where it has stuck to the cooling rack, transfer the cake to a cake dish. Melt the white chocolate; drizzle on top of the cake in a
decorative pattern.

Nutrition information: Per serving: 491 calories, 46 percent of calories from fat, 25 g fat, 14 g saturated fat, 48 mg cholesterol, 61 g carbohydrates, 5 g protein, 124 mg sodium, 3 g fiber.
CHOCOLATE RUM BALLS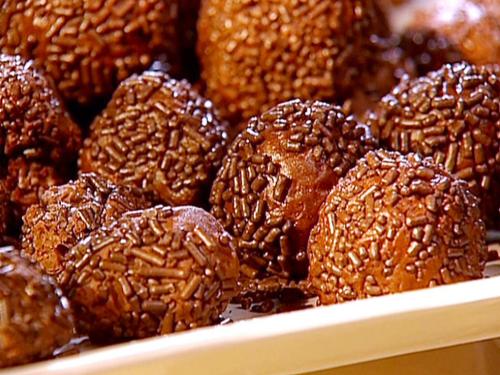 These delicious treats take only 10 minutes to prepare and 10 minutes to cook and make about 24 rum balls. We got the recipe from a local bakery.

Ingredients

* 4 ounces semisweet chocolate, cut into small pieces
* 4 ounces bittersweet chocolate, cut into small pieces
* 1 stick butter, cut into small pieces
* 4 cups powdered sugar
* 2 tablespoons dark rum
* Chocolate sprinkles, for rolling

Directions

In a medium bowl, combine the 2 types of chocolate and melt over a double boiler. (Or in a metal bowl over a pot of simmering water.) Whisk in the butter pieces. Whisk in the sugar and the rum.

Put the sprinkles in a bowl. Roll the chocolate mixture into small balls, about 1 1/2 inches each. Roll them in the sprinkles until they are fully coated. Store them in an airtight container.
Peppermint Fudge Cake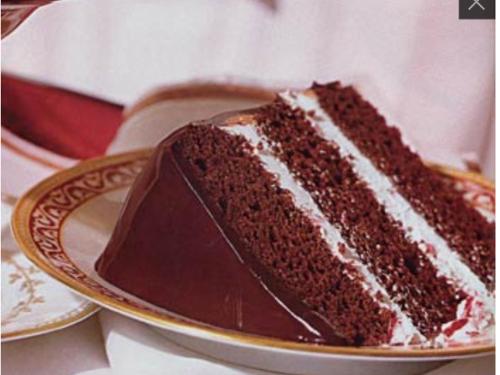 in honor of National Chocolate Mint Day February 19

Adabpted from a receipe in Bon Appétit September 2000 by Marcel Desaulniers of The Trellis, Williamsburg, VA

INGREDIENTS

For cake

2 cups all purpose flour

1 1/2 teaspoons baking soda

1/2 teaspoon salt

1 cup unsweetened cocoa powder

1 2/3 cups boiling water

1 cup (2 sticks) unsalted butter, room temperature

2 cups sugar

1 1/2 teaspoons vanilla extract

3 large eggs

For peppermint mousse

10 ounces good-quality white chocolate (such as Lindt or Baker's), chopped

1 3/4 cups chilled whipping cream

1/4 cup sour cream

24 red-and-white-striped hard peppermint candies, crushed (about 2/3 cup)

For ganache

2 cups whipping cream

16 ounces bittersweet (not unsweetened) or semisweet chocolate, chopped

Make cake:
Preheat oven to 325°F. Butter and flour three 9-inch-diameter cake pans with 1 1/2-inch-high sides. Whisk flour, baking soda and salt in small bowl to blend. Place cocoa in medium bowl; whisk in 1 2/3 cups boiling water. Cool cocoa mixture to room temperature, whisking occasionally.

Using electric mixer, beat butter in large bowl until fluffy. Gradually beat in sugar, then vanilla. Beat in eggs 1 at a time. At low speed, beat in flour mixture in 3 additions alternately with cocoa mixture in 2 additions. Divide batter equally among prepared pans. Bake cakes until tester inserted into center comes out clean, about 25 minutes. Cool cakes in pans 10 minutes. Cut around cakes to loosen; turn out onto racks. Cool completely.

Make peppermint mousse:
Combine white chocolate, 3/4 cup whipping cream and sour cream in heavy medium saucepan. Stir over low heat just until chocolate is melted and smooth. Transfer white chocolate mixture to large bowl; cool to barely lukewarm, whisking occasionally, about 20 minutes. Mix in candies. Beat remaining 1 cup cream in medium bowl to soft peaks. Fold cream into barely lukewarm white chocolate mixture in 4 additions. Chill mousse until beginning to set, about 2 hours. Place 1 cake layer on 8-inch cardboard round. Spread half of mousse over top of cake. Top with second cake layer, remaining mousse and third cake layer. Chill assembled cake until mousse is cold and set, about 3 hours.

Meanwhile, prepare ganache:
Bring cream to simmer in heavy large saucepan. Remove from heat. Add bittersweet chocolate; whisk until melted and smooth. Cool ganache until thick but still pourable, about 45 minutes.

Place cake on rack set over baking sheet. Pour ganache over cake, spreading with metal spatula to cover sides evenly. Chill cake until ganache sets, at least 30 minutes and up to 1 day.
Mini Chocolate Souffles
in celebration of National Chocolate Soufflé Day February 28

These are delicious, elegant and LOW in calories!!!

Ready in 30 minutes • Makes 4 servings

Ingredients:

Olive oil non-stick cooking spray

1/4 cup unsweetened cocoa

1 1/2 tbsp white wheat flour

1/2 cup low-fat milk

6 tbsp honey, divided

1/2 tsp pure vanilla extract

2 large egg whites

1/8 tsp cream of tartar

Instructions:

Preheat oven to 350°F. Lightly spray the bottoms of 4 single-serve ramekins (soufflé cups).In a heavy saucepan combine the cocoa and flour. Add milk and 3 tbsp of honey and whisk smooth.Cook, stirring, over low-medium heat until thick, approximately 2 minutes. Stir in vanilla and set aside to cool slightly.Place egg whites and cream of tartar in a small mixing bowl and beat until soft peaks form. Gradually beat in remaining honey and continue beating at high speed until stiff peaks form.Fold 1/4 cup of the egg whites into the chocolate mixture to lighten; then gently fold in remaining whites. Divide mixture evenly into the prepared ramekins. Place ramekins on a baking sheet and bake 15 minutes, or until puffy and set. Serve immediately.

Egg whites are a great low-calorie, fat-free protein source, containing 4 grams of protein per large egg, with only 16 calories apiece!

Make this recipe healthier:

Use smaller ramekins to reduce serving size, and serve smaller soufflés with fresh berries to add fiber and vitamins.

Nutrients per serving:

Calories: 140, Total Fats: 1 g, Saturated Fat: 1 g, Trans Fat: 0 g, Cholesterol: 1 mg, Sodium: 37 mg, Total Carbohydrates: 33 g, Dietary Fiber: 2 g, Sugars: 28 g, Protein: 4 g, Iron: 1 mg