Mediterranean Watermelon Salad with Watermelon Vinaigrette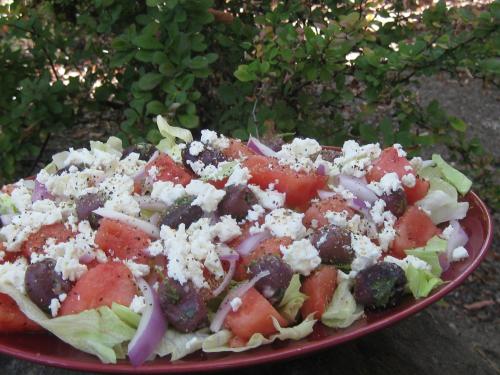 This is a wonderful cool salad for summer days. Great for a picnic side dish or a main dish on a warm day. We like to serve it with fresh warm buttered French bread.

SALAD INGREDIENTS
* 6 cups torn mixed salad greens
* 2 handfuls of fresh cilantro or parsley, leaves picked
* 3 cups cubed, seeded watermelon
* 1/2 cup sliced purple onion
* 1/3 cup crumbled feta cheese
* 6 pitted kalamata olives
* 3/4 cup watermelon vinaigrette
* Freshly cracked black pepper

WATERMELON VINAIGRETTE INGREDIENTS:
* 2 tablespoons currant jelly
* 1/4 cup pureed watermelon (in blender, process chunks of seeded watermelon until pureed)
* 2 tablespoons white wine vinegar
* 1/4 teaspoon garlic pepper
* 1/8 teaspoon salt
* 1 teaspoon olive oil

INSTRUCTIONS:
In a small saucepan, heat the jelly until just melted; cool. Add the remaining ingredients and stir until well blended. Store in the refrigerator. Shake well before using. Makes 1/2 cup of dressing. In a large bowl, mix all the ingredients except the vinaigrette and pepper. Just before serving, toss the salad mixture with the vinaigrette. Garnish with freshly cracked black pepper. Makes 6 servings

Adapted from a recipe by Chef Emeril Lagasse.